In this post, we are reviewing the Airistech Herbva 5G portable herbal vaporizer. The Herbva 5G is the latest addition to Airistech's Herbva range of entry-level herbal vapes.
We have reviewed the Herbva Nokiva and Herbva X models before here at VapeFuse. They both provide great value for money and make vaporization affordable.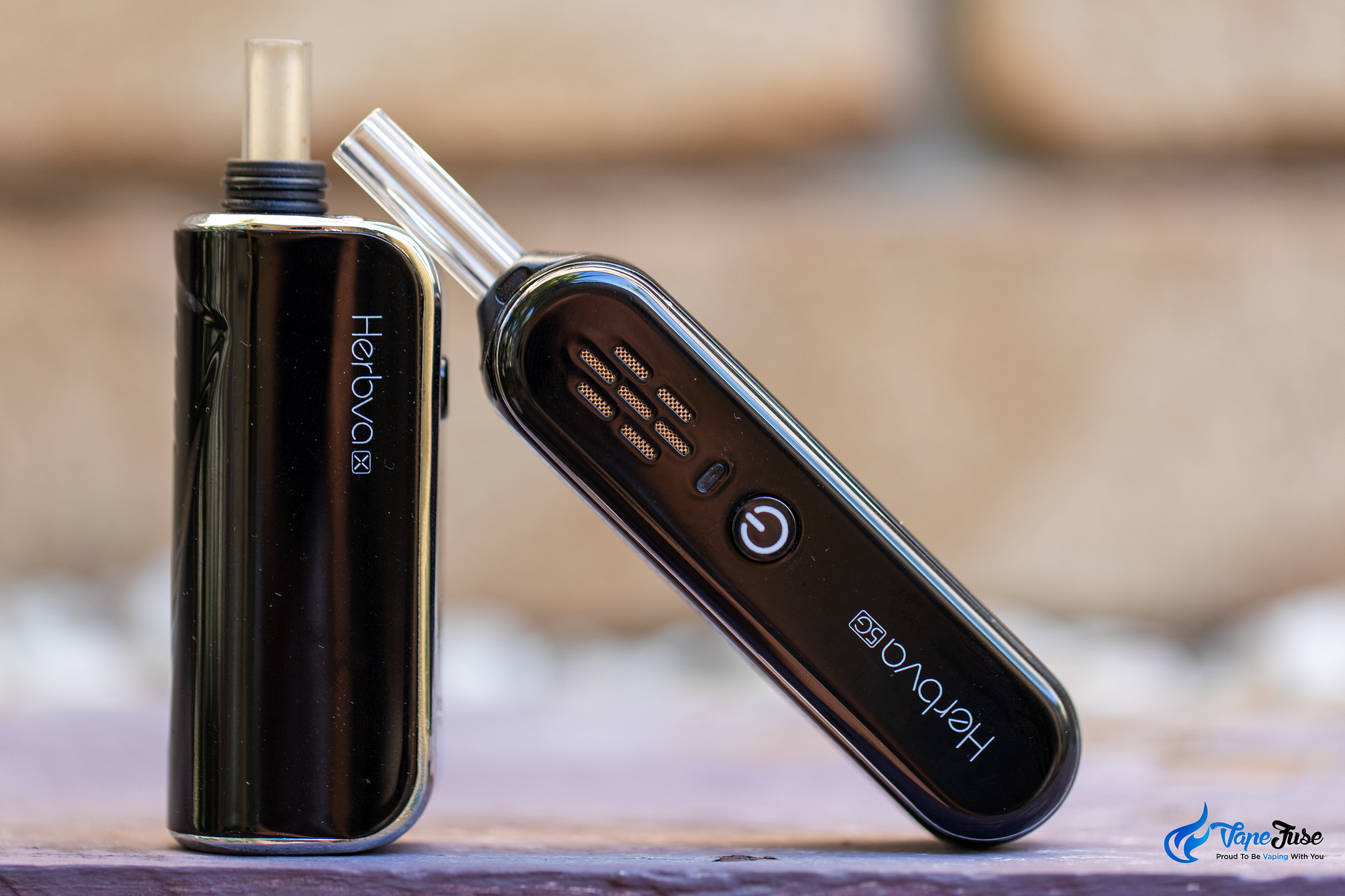 We have been testing out the Herbva 5G for the last couple of weeks and below is what we've found so far.
What Comes in the Box with the Herbva 5G
Airistech has kept the Herbva 5G kit simple but inclusive. Apart from the essentials, they chuck in a glass mouthpiece, which is very nice.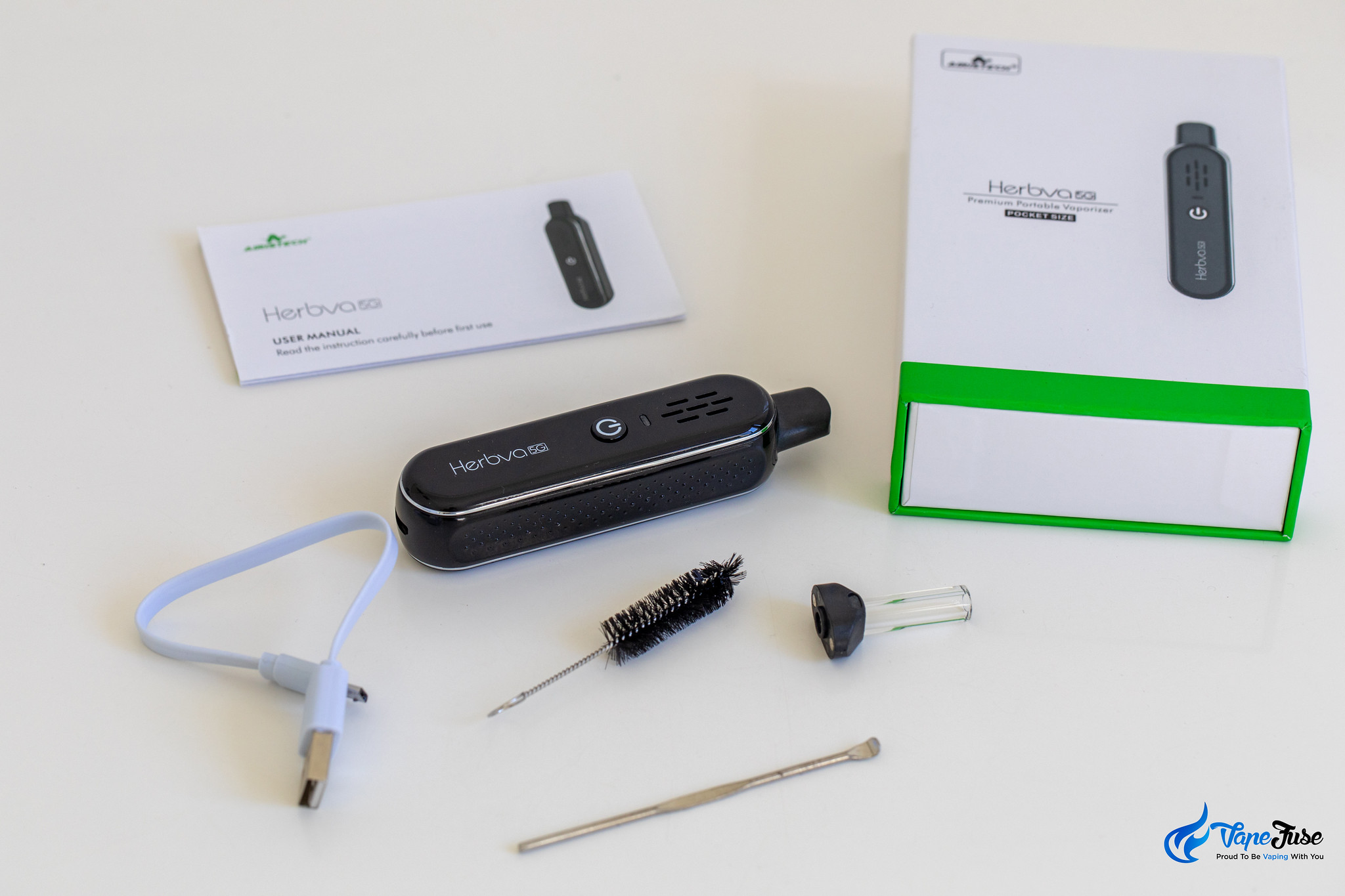 The Design of the Airistech Herbva 5G Vaporizer
The Herbva 5G follows the style of other Airsitech herbal vapes. As a result, it is small, lightweight and simple to use. When I say it is small I mean it. It is only 4 inches tall (103mm), one-inch thick (24mm) and 0.8 inch (21mm) wide and weighs only 52 grams.
It is available in black, red and white colors.
Mouthpiece
Another similarity to previous Herbva models is that it has a 5 pin ceramic heating chamber and a magnetic mouthpiece.
You can swap the plastic mouthpiece to a glass one that is also included with the Herbva 5G.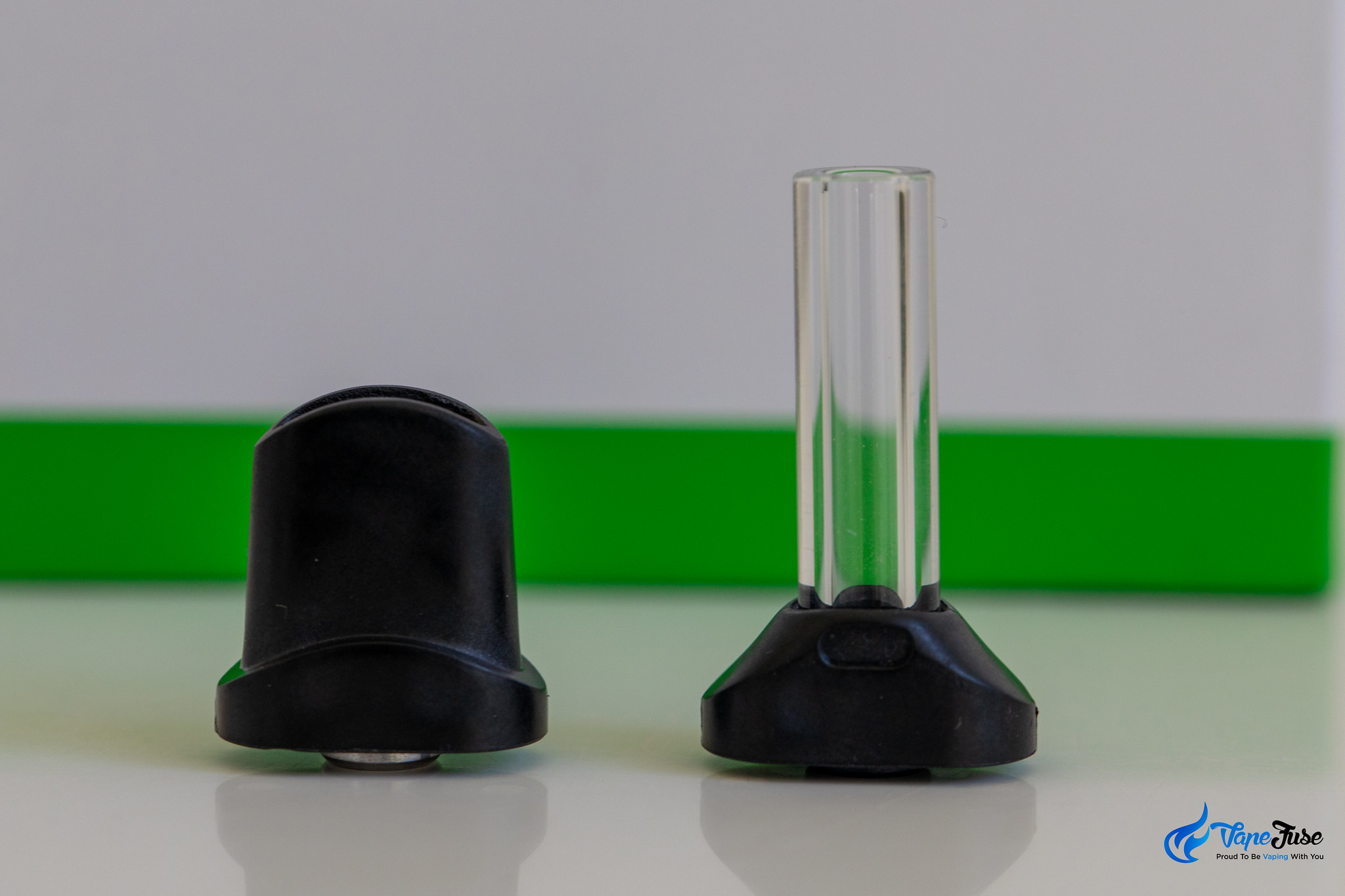 Heating Chamber
The ceramic baking chamber is narrow and deep. In contrast to the HerbvaX, it is a little narrower as you can see in the below picture.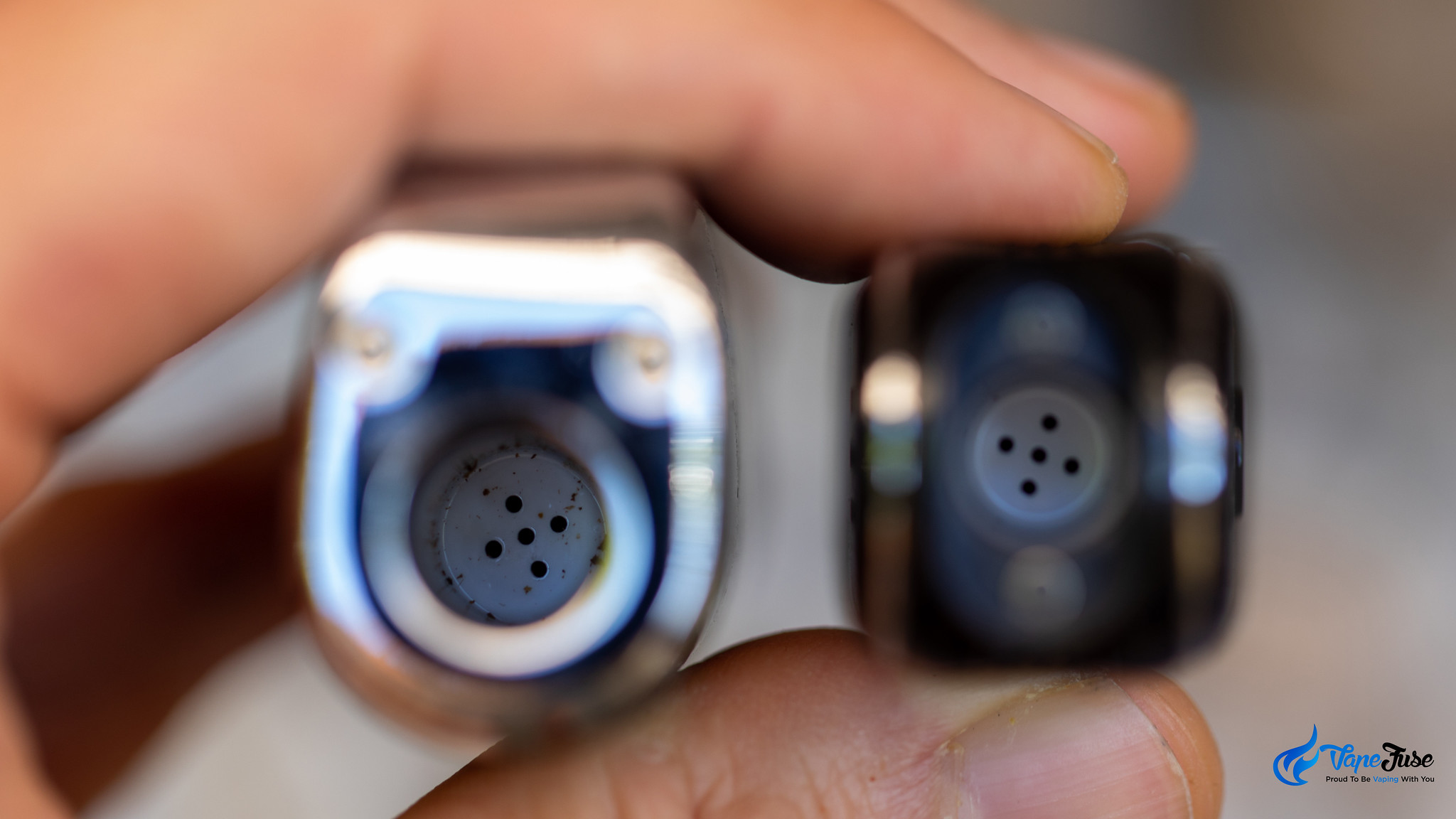 Ceramic chambers don't always produce the best-tasting vapor, especially on lower-priced vapes. In contrast, the Herbva 5G produces a good and clean tasting vapor and nice big clouds of it. This may be an indication of a good quality ceramic baking oven.
Overall, we thought it was a pretty good effort for a vape at this price. After sessions, the herbs are vaporized fully and evenly.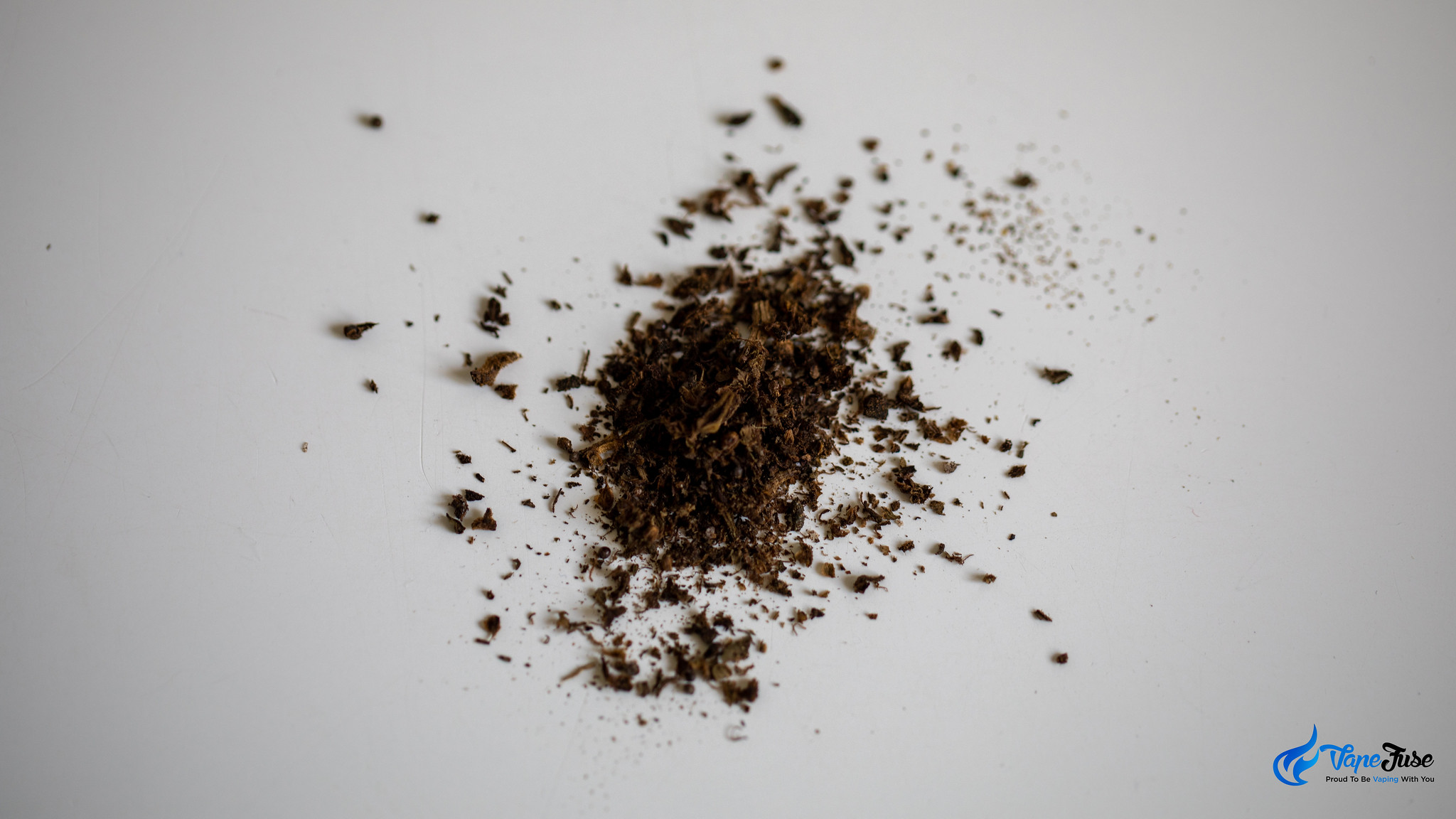 Battery
The Airistech Herbva 5G comes with a 1000 mAh built-in battery. Despite the small size of the battery, it heats up the baking chamber in approximately 20 seconds or so. Smaller battery capacity means short and sharp session times. The Herbva 5G has a 3 minutes session timer and auto shuts off after that.
When your battery gets low the 5G will let you know by flashing a red LED light 10 times in a row. Use the provided micro USB charging cable to charge the battery. The LED will be steady red while charging and turns off once the battery is fully charged.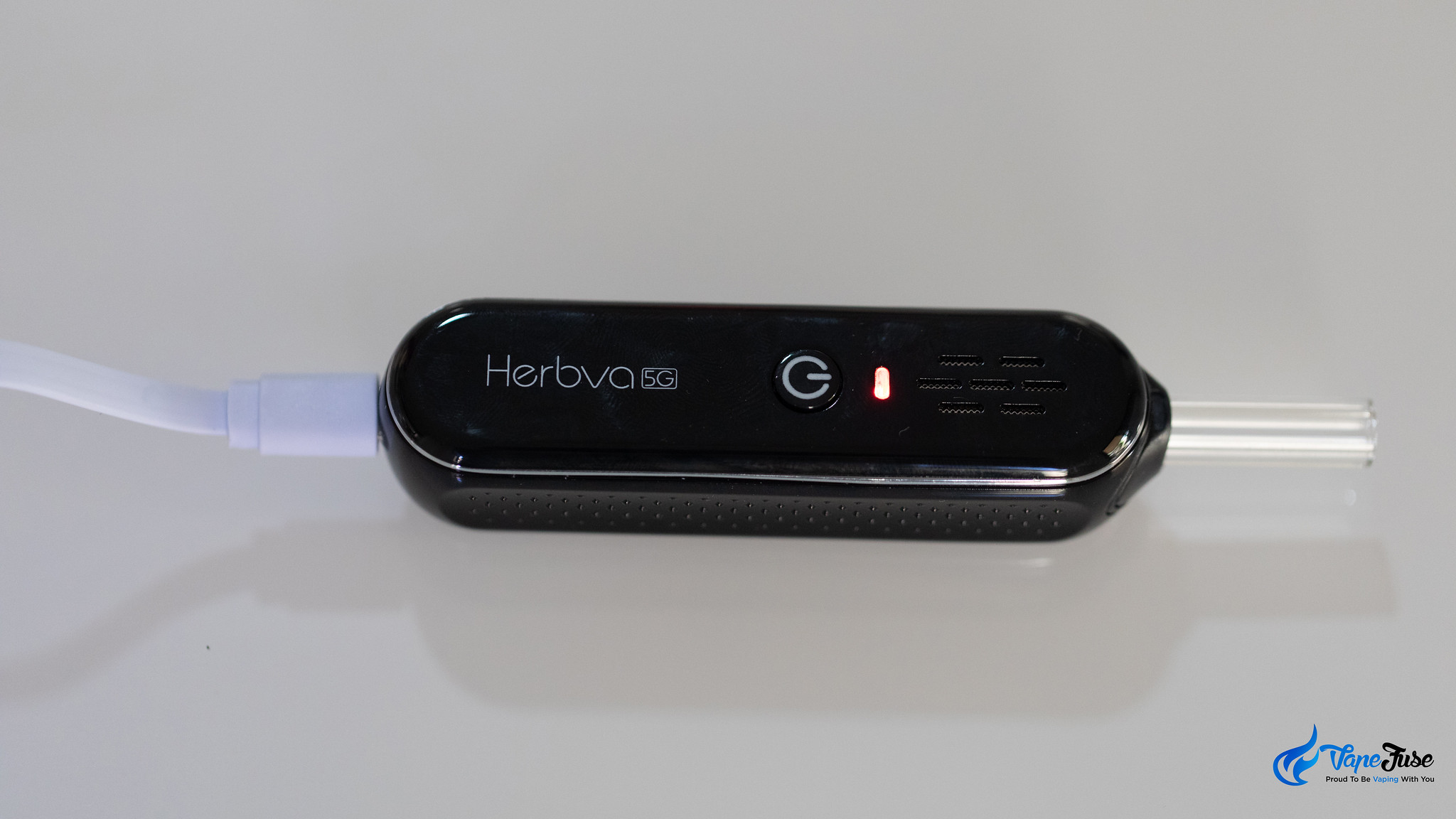 How to Use the Herbva 5G
We always recommend putting brand new vaporizers on the charger before the first use. For the reason that it seems to help with conditioning your battery for a long lifespan and optimal performance. We suggest you leave your vaporizer on the charger for 2 to 3 hours for the first time.
Using the Herbva 5G is as simple as it gets. First of all, we recommend you to 'burn it off' by turning it on (with 5 presses on the power button) and let it run a session with an empty chamber. This helps to burn off any manufacturing residues that may be left on surfaces.
Wait for it to cool a little bit and simply remove the magnetic mouthpiece to expose the baking chamber.
Pack your chamber with ground herbs, using your fingers and the supplied packing tool.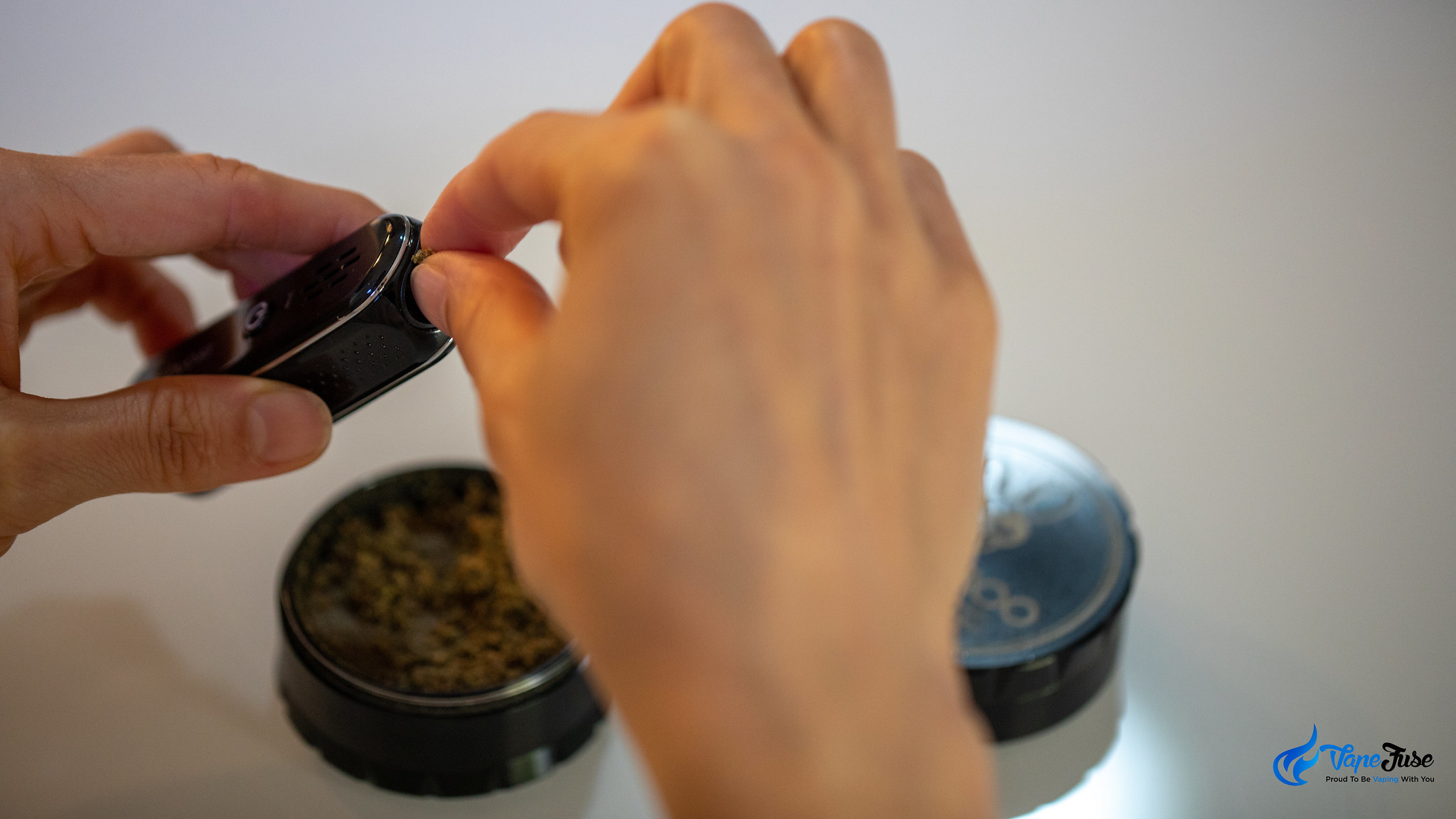 Once your herb chamber is nicely packed, (a little firm but not too tight) you are ready to turn on your 5G. It is a single button operation vaporizer with a single LED light. Press the button 5 times in a sequence to turn the device on.
You'll see the LED light coming on and start flashing as the vaporizer is heating up. The LED will turn steady once the set temperature is reached.
Temperature Settings
When you first turn on your Herbva 5G, it will heat up to the first preset temperature setting of 390 Fahrenheit (approximately 200 Celsius). This temperature level is indicated with a green color LED light.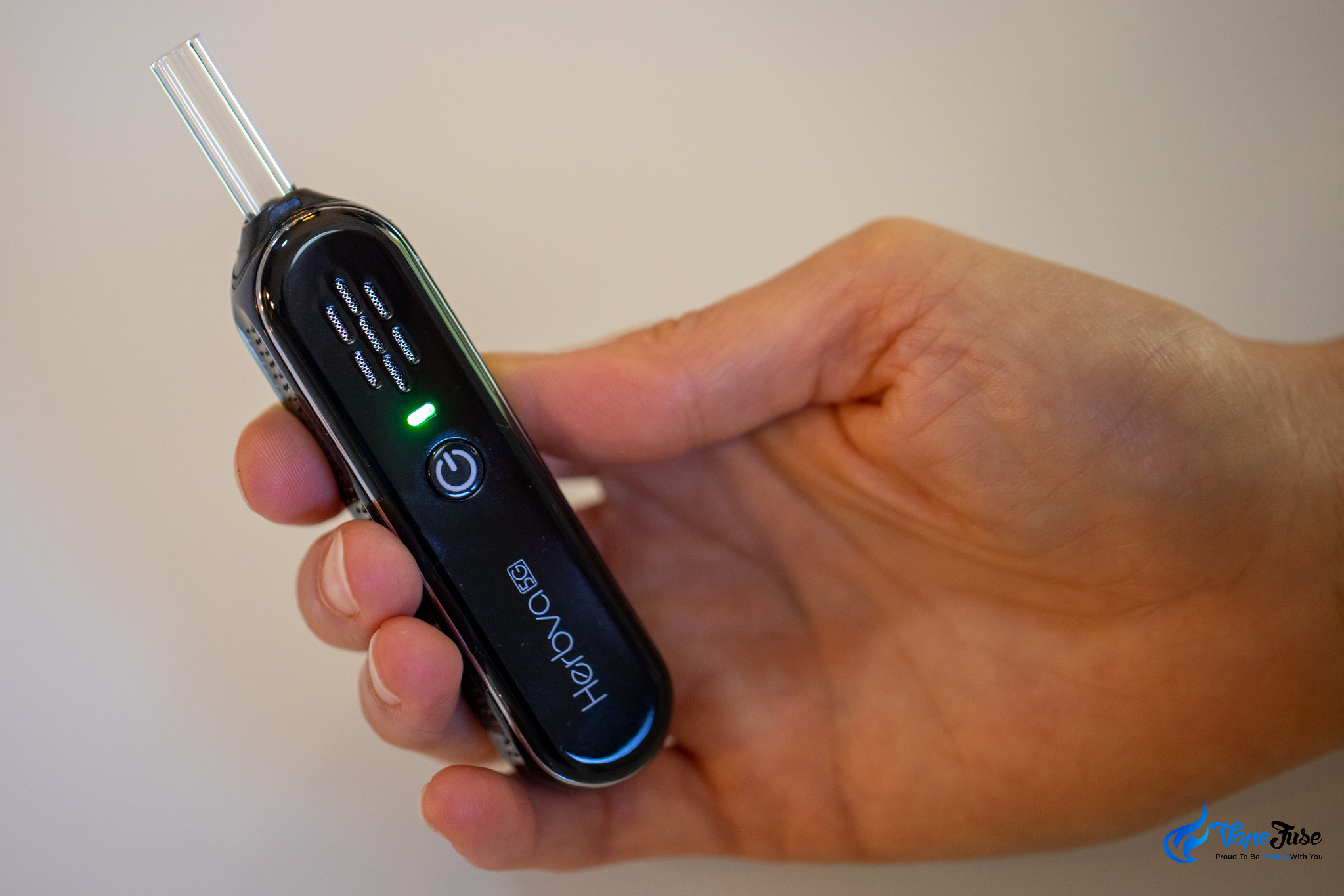 There are 2 other preset temperature settings available. You can toggle between these 3 settings by pressing the button once.
The next level up is 405°F (approximately 207°C) that is indicated by blue color.
Finally, the top temperature level is 420°F (approximately 215°C), indicated by a white color LED light.
Conclusion
The Airistech Herbva 5G has performed rather well during our testings and produced quite good quality vapor. We believe it represents a great value for money and makes vaporization available for almost everyone at this price point.
The Herbva 5G is a great first vape for anyone and we would even recommend it to more seasoned vapers on a budget. The Herbva gets the job done and surely won't break the bank.